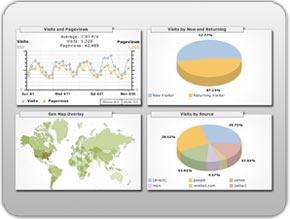 Ultimate Design is experienced in marketing Memphis businesses. Search engine optimization (SEO) is a critical part of any digital marketing strategy. Our search engine optimization (SEO) services are the foundation for our web design and web development services. If you have a web site, you will certainly benefit from working with one of our digital marketing consultants.
SEO Campaign Strategy
Keyword Research
Link Building
Site Monitoring & Analysis
30-day Search Metrics Analysis
SEO Copywriting
Content Marketing
Title & Anchor Text Optimization
Excerpt Optimization for CTR
Article Syndication
Content Performance Testing
Usability Enhancements
SEO, or Search Engine Optimization, refers to the process of applying various techniques to prepare a web site in order to establish high search engine rankings. Ultimate Design can work with an existing site as well as providing a full Internet marketing strategy for a new site.
The developers who create search engines are continually doing case studies to examine how they can improve the search algorithms to return even better results. They examine areas in which sites are gaining artificially high rankings and make adjustments in order to eliminate these sites from such results. In some cases the changes result in a site being eliminated from the index all together. Web sites that continue to remain highly ranked throughout search engine algorithm changes, generally have something in common. Theses web sites are considered to have value and be an authoritative source for information. On further examination these web sites generally have clear, well written content and use language that resonates with the end user. These web sites also appear to adopt best practices, meaning they do not violate any of the rules as stipulated by the search engines.
Our digital marketing services are the go-to source for many Memphis businesses' digital marketing needs. Working with our SEO Consultants, businesses in the Memphis area can find success in organic search engine optimization, pay-per-click campaigns, social media optimization, content marketing, and more. Utilizing our digital marketing services can deflect online competitors and amplify your web visibility, giving potential customers more reasons to connect with your business. We offer fully-tailored marketing strategies designed to meet your goals.
Keyword Research
After learning about the business goals and the direction of your company, the initial stage of development will be to conduct a keyword research phase. Using Internet search metrics data, Ultimate Design will identify the keywords and phrases that have been used by actual Internet users in the last 30-days, which relate directly to the services or products you offer. This list will form the basis for the rest of our SEO strategy.
The research will help us identify:
How to structure the site by level of importance
Possible directions for additional site content
Key language to use to increase site relevancy
Keyword research assists us in defining how the site should be structured, with our content relating to the most commonly searched keywords and phrases being positioned most prominently within the site. The research often reveals possible new topics for content which is very useful during web site content planning phase of any project. Finally, fine tuning the content with exact language used in organic searches gives us the ability to provide content that truly resonates with the end user, which in turn, is also a major step toward achieving high rankings on the search engines by creating pages that are higly relevant. Keyword research should be completed continually once a site is launched in order to stay informed about changes in the way people search. It will also allow you to identify "buzz words" which can sometimes been seen to suddenly have a huge following.
SEO Copywriting
Ultimate Design believes that good SEO Copywriting is reliant upon good quality research. You may ask how this is different to any other form of copywriting? After all, a good writer takes time to thoroughly research a subject paying particular attention to style and vocabulary for the intended audience. SEO Copywriting works in much the same way, though perhaps it adopts a more precise art for pinpointing the terminology to use. A talented SEO Copywriter has a clear understanding of document structure and semantics. The final article should be easy to read with text that engages the reader.
Link Building - Building Site Popularity
Once you have a nicely laid out, beautifully written and carefully coded site, it is important for your site to become popular and well regarded. Think about the real world for a moment. What makes you trust another company or believe in a particular brand? Perhaps it is based upon a recommendation a friend makes or perhaps you see another company or celebrity you already know and trust make an endorsement. These concepts can be translated directly to the Internet. Essentially what your site now needs is a selection of endorsements or, in the case of the Internet, incoming links.
Article Syndication
It is usually assumed that you know a little about the business you are in. So why not share some of that knowledge? Industry periodicals have been popular and available in print for years. Many of the articles they contain are written by leading figures in the industry. By writing an article to publish on your web site you have the opportunity to show that you are knowledgable and you will begin to build recognition with readers. Gaining notoriety requires that your article can be found. Articles can be submitted for syndication which allows other site owners to republish your article. Each article written will contain a few lines about you and a link back to a related page on your web site. Every time your article gets republished on another web site your site benefits from having an incoming link, most likely coming from a related site.
Contact us today about our Memphis SEO Services that will help you turn online traffic into sales.