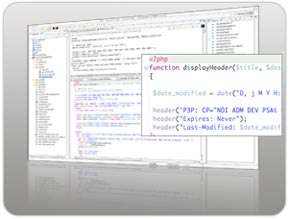 Ultimate Design is a professional web development company, offering web database development services from our design center located in Memphis, TN. Our developers offer a range of custom web programming including PHP, MySQL, XML, RSS Feeds and Flex 2.
PHP Programming
MySQL Web Database Development
Shopping Carts ⁄ Payments
Adobe Flex 2
XML, XSLT, RSS Feeds
Feedback Forms
Site Security & User Access
Dynamic Content
Multimedia & Interactivity
Audio & Video for the Web
Mailing List Management
Content Syndication
PHP Programming & MySQL Web Database Development
Ultimate Design has customized PHP and MySQL web development services to offer you a full range of programming expertise. Our range of services can provide applications as simple as a submission form, all the way through to a large, database driven and multi-user dynamic web site. Our developers can help you combine multiple media types to create professional and compelling web applications.
Shopping Carts ⁄ Payments
In most cases, an ecommerce enabled web site will be developed based upon an existing commercially available shopping cart. This helps limit your cost. Each requirement of your project will be taken into consideration in order for us to help you select a cart that is right for you. Ultimate Design will customize the shopping cart as necessary to meet your needs, particularly in cases where your products or services have numerous possible options. Custom cake example: build your own cake by selecting shape, size, number of layers, fillings, color and flavor.
There are many shopping carts available both commercially and under open source, all of which have many options and add-on modules. One key consideration when selecting a cart is the provider you will use to accept payments.
A few example payment providers are:
PayPal
Google Cart
Authorize.net
iPayment
Adobe Flex 2
Adobe Flex 2 is a powerful development environment for creating rich Internet applications that operate in the Flash player. Flex 2 has tools built in to easily connect to a database or XML based data source, making Flex 2 a very powerful frontend to any application. The built in tools for organizing datasets make it an ideal way to quickly present large amounts of data in a way the is easy to digest. Flex 2 is ideal for loading dynamic content such as audio, video and photographs.
XML, XSLT, RSS Feeds
Making your web site content available to other Internet users or content providers can be accomplished by providing an XML based RSS Feed. Really Simple Syndication, RSS, is a way to allow other web sites to use your content. Google has many ways in which you can submit information via an XML based feed. Google's shopping search, Froogle, allows you to bulk upload your product information and pricing. A dynamically generated XML file of your product information is an invaluable add-on to a shopping cart as a method to submit your product information to Froogle. Google Base, another service offered by Google which allows you to refine your search criteria, also allows content providers to submit their content via an XML feed. Example: You have property listings that change daily that you wish to have Google include in Google Base.
Linux Server Administration & Bash Shell Programming

Ultimate Design has experience in Linux server administration and security hardening, enabling us to have a much broader undestanding of web based interactivity and application development. This allows us to automate common tasks associated with the management of your web application and gives us the ability to develop tools that help your organization operate more efficiently. We have programmers who specialize in command line programming who can assist you in bash shell programming. Request more information about our Linux administration and shell programming services.